If you are a professional photographer, social media influencer, freelancer, video editor, company, business, or any brand, then a video slideshow or virtual tour can be a great way of promoting and displaying yourself. But it would help if you had a relevant online video maker that allows you to bind photos and music together to make efficient videos.
So, which is the best online video maker with photos and music? How to Choose the Best Online Video Maker? We will provide you with the best video maker, both free and premium, on the Internet. You can choose any of them as per your needs and requirements. Make sure to read the complete article as no concern will be left behind. 
Table of Contents
Importance of Online video maker with photos and music
A video, whether a marketing campaign video, influencing video, corporate video, music video, or anything else, must be well prepared to attract viewers and spectators. A video maker will allow you to create a masterpiece with compelling pictures and music. Video makers have great importance; here are some of them:
Cutting your way to success: While making the video through pictures and music, there is a need to maintain the flow by cutting. Your audience must be expecting the new scene of the slide at an adequate time, so you need to cut the shots at an ideal time. A sudden and unexpected burst will irritate the audience and flush their interest. An adequate video maker will help you to make a perfect-cut video. 
Sound effects – the most crucial aspect: The sound effects like a gunshot, surprise, laughing, crying, bird's voice, and many more in the middle of videos as per the scene will have a significant impact. It will give a realistic experience to the audience. The ideal video makers are full of sound effects to choose from.
Switch the images: As you make the videos from your pictures, sound effects, voice, and music. So, there is a need to establish an adequate switch between them. To make the concluding video masterpiece, the switch animation must be impressive. The video makers will allow you to apply attractive animation between the slides of your video. 
Perfect flow: One of the most critical factors determining your video's overall quality is the flow. From the beginning to the end, the tape must have a similar tone to the music, filters, voice, animation, and all other things. The unevenness will lead to a loss of audience interest. And that will affect the purpose of the video. 
Convey the message: The videos are made to deliver a specific message to the targeted viewers. If it has no purpose and objective, the audience will not get the point you want to provide to them. The video makers will help you to build a strong message with practical effects, voices, variations, and many more features.
Save the memories: Everyone has some beautiful memories and remembrances of different occasions. And it will be more pleasing to glace them with music and effects. The video makers will help you to assemble all your pictures and clips with music. You can also watch this video along with your friends and family.
Add-on SEO features: A video is useless until it reaches the targeted audience. The duration of the video, size, music, and many other factors will determine the reach rate of videos. It is determined by SEO. Video makers play a significant role in triggering the SEO of search engines and social media platforms. It will allow the users to make videos as per the SEO requirements.
More Articles Related to Video online Tools & Software
Free Online Video maker with Photos
Both free and premium video makers are available on the Internet for professional-level videos made from pictures and music. Some people like to use premium platforms due to premium features and more specifications.
But nowadays, the free platforms also offer the same features at no cost. There is no need to pay a single penny to enjoy these fantastic platforms. Here are some of them: 
The wave is for bloggers, small businesses, social media enthusiasts, and many other areas. The video fits perfectly. It allows the users to make, edit, share, and host the videos and furnish a masterpiece out of the stack of pictures and music. The video maker is available for both free and premium packages. Both boxes have similar features, but the premium version offers more exporting options. 
This video maker has an easy-to-use interface. Both beginner and professional video makers can easily use it. Also, they will offer blogs based on their demo and educational articles. You can read them to master their platform. You can freely use more than 400 M+ video clips and an image library with no copyright claim.
Also, you can directly export your prepared video to platforms like YouTube, Instagram, Facebook, Twitter, Dropbox, Wistia, Vimeo, Google Drive, and HubSpot. For instance, the wave. The video will also generate a free landing page for your video. You can also download your video in mp4 format easily.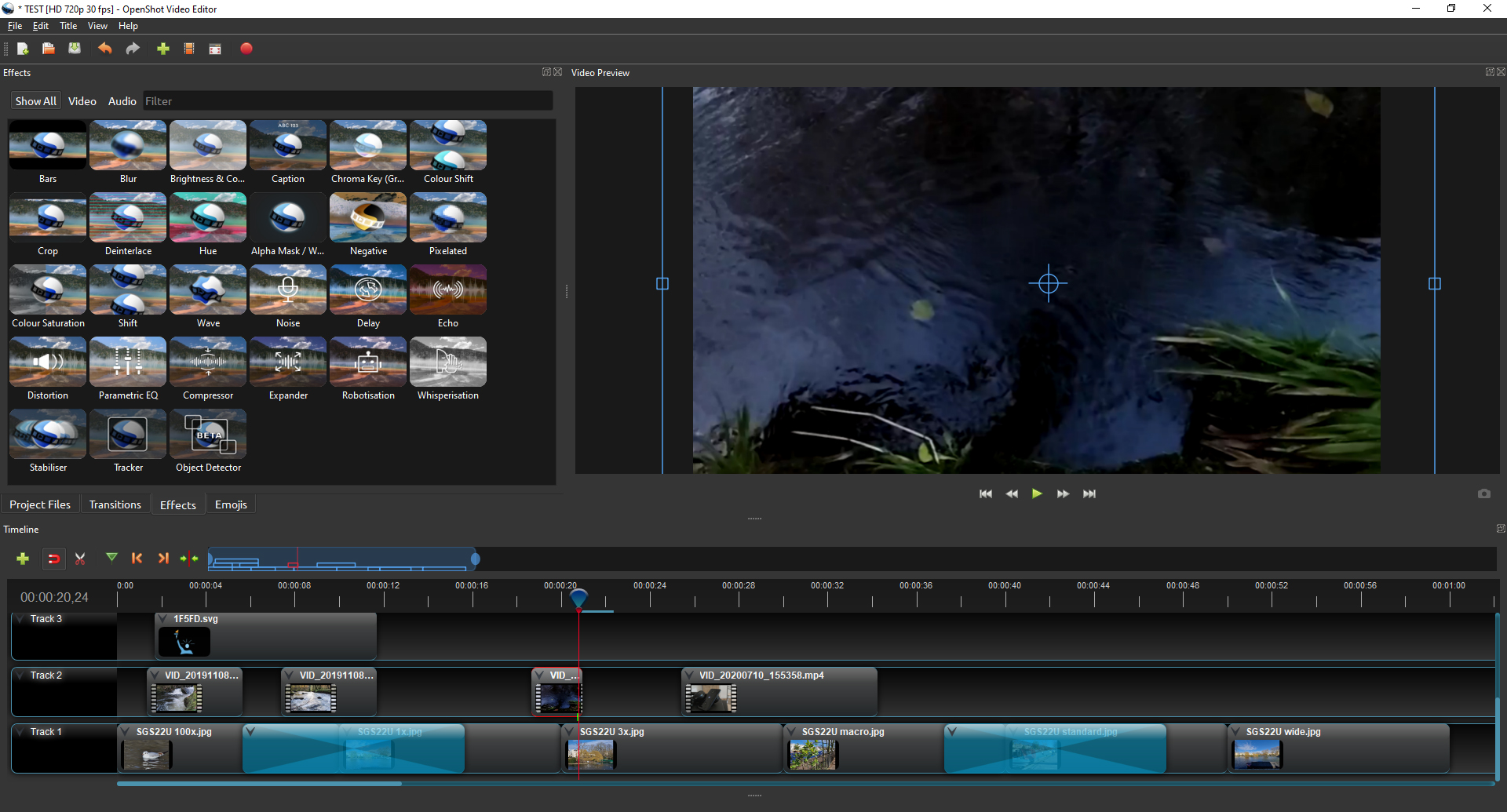 This platform is recommended to intermediate editors for simple and sober editions and video creation. For small businesses and minor video editing, this software offers features like trimming, clip resizing, scaling, snapping, rotation, and many more features. Users can also edit the audio and glance at the real-time preview of their videos. You can select the required images from your system and proceed to make an adorable video. 
Animation plays a vital role in making the video impressive, and the open shot is well aware of it. You can use the practical keyframe animation feature and title card templates to start from scratch. One of the most prominent features of this software is its user-friendly interface and free availability. You can use premium software as a free alternative without spending your money on premium software.
It offers an unlimited stock of pictures, clips, and sound effects to edit the videos as per the requirements. Also, the pick-and-use option allows you to use the stock stuff in your video effectively. No watermark is included, and this software is compatible with Mac, Windows, and Linux. 
YouTubers and bloggers who want HD 480 resolution video to upload can use this platform for professional video editions. The most significant advantage of Chip Champ is that it is available for free. It is a combo of abundant features and specifications, including a video compressor, converter, and webcam recorder. You can use trimming, cutting, speed control, title blocks, and filters for free. 
ChipChamp can be easily accessed from all operating systems, including Windows, Mac, and Linux. There is no need to pay a single penny to edit or make videos out of images and music. Whether you want to convert your beautiful memory from pictures to video or want to add music to it, by using the Chip Champ, you can perform multiple operations efficiently.  
You can select the required resolution for the conversion of videos and easily export it to numerous platforms like YouTube, Twitter, Instagram, Facebook, Dropbox, and many more places in a single click. For beginner editors, this platform is highly recommended. 
No platform is better than the Adobe Spark video maker for short video stories and status on social media platforms. This is available in both application forms, or you can continue the edition or video marking online. Operating systems like Windows, Mac, and Linux are compatible with the Adobe Spark video maker. 
More importantly, you can enjoy hundreds of features and specifications for free. Unlike other premium software, it does not charge money for exporting videos.
You can use this online platform to create beautiful stories of your lovely memories. It will allow you to prepare professional videos with perfect flow and message conveying stories. Use music and voice effects to enhance the quality of your videos. The trim and resize features support your editing from starch to a recompense value.
When it comes to the output of the video, you can get your video in high definition 480p resolution. Download the video offline and then export it to the required platform or directly export it to the media like YouTube, Instagram, and many more. 
For marketing purposes and promotional videos of your products, the Magisto is perfect for you. All you need to do is select the photos and clip music, and then the fantastic AI-based features of the Magisto will transform your video into an existing story within a few minutes. It cooperates with the stocks, allowing you to select the required images, clips, and music from tons of files. There is no copyright claim on all your videos. 
If you own a small business and looking for effective marketing for your new launch, then Magisto will help you to prepare the marketing videos for the new launch product or service. The animations and layout will catch the eyes of spectators and work as a call-to-action option.
The working of this AI-based software is unique and special for other video makers on the Internet. You need to upload your business videos or photos and select the video editing style and soundtrack from the library. This software will automatically prepare the video within a few minutes and is ready to export or download.
Premium Online Video maker with Photos & Music
All the free online video makers are practical and efficient for some users and are good to an extent. However, some professional and high-class video-making projects require excellent tools and resources that are not available on the free platforms and software.
You need to for the premium ones. The Internet is full of such software, making it difficult to choose the adequate one. Don't worry! We have shortlisted the top 5 best online video makers with photos and music; here are they:
The Renderforest is an ocean full of tools and professional video-making features. One of the most prominent features of this platform is that it will offer a step-by-step tutorial of its tools and features to familiarize the user. You can also try the free trial to get an idea about this fantastic tool. It has more than "115.000 + Royalty-free Stock Footage," but you are not supposed to access these images with the trial version. It would help if you bought the premium package first.
For the exporting options, it offers to export to YouTube and Facebook directly; for other platforms, you need to download the video file and then upload it to the required places. It has in-built effects and animations. You can only change the basic coloring of the energy and fonts that will strengthen Renderforest's integrity and, more importantly, not sacrifice virtue. 
There are numerous plans and package options available for the RenderForest, and you can choose any of them per your needs and requirements. The weekly, monthly, yearly, and lifetime plans are also available. The biggest shortcoming of this software is that you can not create the video from scratch. You must select something from your library and proceed with further editing.
Animoto is entirely used to prepare the marking videos and slideshow. For personalized social media or familial events, this platform is highly recommended. It has an easy-to-use interface that will offer step-by-step tutorials to the users while working on this platform for the first time. Anyone without prior knowledge and experience can easily edit and make videos using Animoto.
Animoto offers a stocked music library and templated stories, which you can trim and then use in your videos. But here, it has the most significant shortcoming. It is difficult to determine whether the stocked images, clips, and music are licensed or not. You may face copyright claims as well. So make sure to use the original and non-copied content while editing.
You can export the videos in high definition, i.e., 720p and 1080p, whereas the SD formats as well, i.e., 480p and 360p. You can also download your video offline.
Flixier is one of the most powerful video-making platforms that offers abundant features and specifications to make professional videos. It is loaded with flashy template ideas and various social media inspirations to follow. This platform is perfect for promoting brands using marketing videos for the business and brands. It is a premium video-making software available in simplified packages.
To start editing your videos, you must sign in with your registered account and start making your marketing video out of starch. Choose the background clip, music, effects, animations, slideshow effects, voice effects, and many more features. The stock library offers HD videos with no copyright claim. You can freely use them for marking purposes.
Simple but powerful video-making software offers unique tools, including ratios and instant playback. The premium variant offers unlimited templates, fonts, effects, and animations. Also, the stock images and clips. For creating professional YouTube and Facebook videos, this platform is highly recommended. One of the biggest cons of the Kizoa is its price. You need to spend $300 on software for video making. There are other alternatives available at low prices that offer the same features. 
You will see a lot of export options with the Kizoa, and you can download the video offline, send it via email, or post it directly to platforms like Facebook, YouTube, and Twitter. Also, you can set the video in various formats and ratios like landscape, portrait, story, reels, tik to video, and many more. 
For teaching and informational purposes, WeVideo is the perfect video maker. The students or pupils can create the videos in the observational environment of the teachers. This platform strictly follows the guidelines of FERPA and COPPA. Generally, high-class universities across the globe are using this platform to conduct various activities and tests. The schools in the US have adopted this platform.
It is compatible with almost all devices and operating systems, including iOS, Android, Chromebooks, PC, Mac, Windows, and Linux. It has a drag-and-drop option that makes it easy to use by students of minor age too. Stocked library with more than 460k images and various songs. The prepared video can be exported to LinkedIn, Instagram, Twitter, YouTube, and many more in 480p format. 
How to Choose the Best Online Video Maker 
As there are thousands of video makers available on the Internet, it makes it difficult for you to choose the adequate one. So, we have presented the top 5 free and premium video makers. But this will also create a dilemma in some users' minds, which one to choose. Well! There are a few things that you need to keep in mind while selecting the best online video maker with photos and music. Here are some of these aspects:
If you alone are not working on the projects, there is a whole team. Then keep in mind to choose the platforms that offer the accessibility of an entire team to work on a single project. This feature is especially seen in premium software. Such software will also restrict and allow the members to work on specific aspects of the video. The admin can set this. 
Some software is not compatible with all the devices. So ensure that the platform you are going to use is compatible with Mac, Windows, and Linux. Also, the iOS, Android, Chromebook, and others are consistent with the software.
Choose as per your requirement; if you are a Youtuber, then you need to prepare and export the videos in a 16:9 ratio. So, check whether the software you choose supports that ratio or not. More importantly, the resolution. Go for the platform that offers high-definition solutions for exporting files and videos.
Conclusion:
The quality of the video will determine the growth of your Instagram, YouTube channel, blogs, marketing strategies, and many more. So, make sure to choose the best online video maker with photos and music. 
Best Online Video Maker FAQs
How do I make an excellent online video?
An excellent online video must have various aspects to be followed. Some of these are as under: 
Make sure to follow the SEO guidelines 
Export the video in a higher resolution of 720p or 1080p with higher fps.
The quality of the video must be increased; never use third-party images, sound effects, and clips to edit it. 
How to make professional videos at home? 
You can make professional-looking videos at home using your smartphone, PC, or Mac. All you need to do is choose the best online video maker. You may modify the videos with it. Here are some famous video makers: 
1. Magisto 
2. Adobe Spark video marker
3. Chip Champ 
4. OpenShot 
Which quality is best for exporting videos?
The best and most ideal quality to choose from while exporting videos in 720p and 1080p. Always go with 30-60 fps as the devices of 90% of users are capable of supporting this quality. Choosing the higher quality and high fps will cause lagging issues, and the lower rate will cause blue and poor integrity issues. 
What is the format ratio of YouTube? 
YouTube is spotting videos' landscape format, which is usually 16:9 in ratio. For the YouTube shorts, you can use the reel ratio as on Instagram. 
Which background color is best for videos? 
There are a few things to keep in mind while creating the videos; one is the video background color. The perfect color for the background is Neutral tones, like navy blue, light gray, soft white, and olive. 
What is the key to YouTube's success? 
Uploading good quality videos with higher resolution and consistency is the primary key to getting success on YouTube. Never use the third-class editing software. They will foul the quality of videos. 
Do free video makers offer features such as the premium one provides? 
Most free video makers have similar features and specifications, and if you want something unique, you need to go for the premium software. They deliver abundant features and special tools.