Last updated on December 24th, 2022 at 12:44 pm
In the field of affiliate marketing, you need to conduct a lot of research. This is among the most typical scenarios in which individuals aren't sure about the Best Keyword Research Tools for Affiliate Marketing. Many research tools are on the market; however, you have to choose the right one for your needs.
To benefit from the affiliate market, it is essential to be able to conduct more research. Numerous tools have made the job much easier. Therefore, it is important to understand your requirements and the strengths of the tools that you are comparing.
In this post, we'll explain the Best Keyword Research Tools for Affiliate Marketing to help you easily take the right choice. For more information read on until the conclusion.
Table of Contents
Best Keyword Research Tools for Affiliate Marketing in 2022
In this list of Best Keyword Research Tools for Affiliate Marketing in 2022, our first Keyword Research Tool is Keysuggest.io By using this tool, you can conduct the best Keyword Research on any topic. You will find keyword recommendations for Google as well as YouTube.
In this case, you have paid pricing and free, which we'll be discussing, but first, we'll discuss the free version.
The Keyword Research tool can choose between Keyword and URL. However, for URL you must choose the Pro plan. If you simply type in the keyword, you can utilize it at no cost.
Features:
Keyword rank tracking
Performance Metrics
Website Analytics
Domain and URL Keyword Extractor
Price:
Free- $0 per month
Pro- $3 per month
Enterprise- On-demand Features
The Surfer SEO AI tool is an AI-powered and cloud-based SEO tool which helps SEO experts and webmasters create web copy for your WebPages blog posts, articles, and blogs. Surfer SEO lets you analyze your websites against other pages and pages that rank higher on Google.
It's loaded with tools such as the Keyword Research tool, Content planner, Content Editor, and SERP analyzer. All of these tools work together to help you optimize your websites so they rank higher than your competition on Google.
Surfer SEO accomplishes this task using AI (Artificial Intelligence). Surfer SEO analyses your competitors' content to determine the factors that make them rank higher. Then, it utilizes the information to help you create strong copies that will assist your Webpages to outrank your competitors. Search Engine Optimization (SEO) weighs multiple elements that can improve the ranking of your site.
In short, Surfer SEO is the ultimate tool to create SEO-optimized content that will allow you to get ahead of your competition. Read and Know More about Best Keyword Research Tools for Affiliate Marketing in 2022.
Surfer SEO Features
Surfer SEO Content Editor
Audit Tool
Surfer SEO Content Planner
SERP Analyzer Tool
Surfer SEO Keyword Research Tool
The user interface of Surfer is simple to master for SEO optimization on-page.
Articles published could be improved by using the Surfer Audit.
It has an easy-to-use Content editor that is available in Surfer SEO.
The outline of Surfer is quickly shared by writers.
There's a SERP analyzer tool that can aid in the basic optimization of content
It's common for people to overestimate the number of times keywords are required within an article.
The word count of keywords suggested often over-optimizes blog posts.
The editor of content suggests more photos than is necessary from photographs of competitors.
Price:
Basic
Monthly Cost: $59 per month
Annual Price: $49 a month
What You Get:
10 Content Editors per month
20 Audits per month
A free NLP to the very first month
Invite 1 Team Member
Grow Flow Beta
Pro
Monthly Cost: $119 per month
Annual cost: $99 a month
What You Get:
30 Content Editors per month
60 Audits per month
NLP
Invite 3 Team Members
Grow Flow Beta
Business
Monthly Cost: $239 per month
Annual Price: $199 a month
What You Get:
70 Content Editors per month
140 Audits per month
NLP
Invite 10 Team Members
Grow Flow Beta
WhatsMySERP is a no-cost rank tracker tool that allows users to precisely assess their SEO ranking. This online tracker lets us track our website's ranking with the help of keyword trackers. The free SERP checker lets us review the most popular 100 Google results for the top ten keyword phrases each day.
These results are based on Google rankings and will be deleted the following day. There's no trial, credit card or download needed. It's free and available on the internet.
Features:
Regional Searches
Unlimited domains as well as on-demand checks
Localized tracker
Desktop and Mobile Tracking
Free browser extension available.
Upton 100 search results are for free.
Over 100k locations for you to follow from.
Captchas and proxies are not required.
Pricing:
If you choose to upgrade your plan, the cost is $4.99 per month, with 25 keywords. It rises by $59.99 per month, with 1000 keywords.
Ubersuggest is an SEO software developed by Neil Patel that makes it extremely simple to track keywords, evaluate your site's SEO, look up backlinks, and evaluate your competition. It features a user-friendly interface that is extremely user-friendly. It doesn't require any prior training to begin.
The great thing about Ubersuggest can be found in the way that it lets you control your SEO using one dashboard. You don't need to utilize various tools to analyze keywords as well as SEO auditing, backlink inspection and content concepts, competitor analysis and traffic estimations. Ubersuggest can do it all for you for free by offering a free trial.
Features of Ubersuggest
Keyword Overview
Keyword Ideas
Content Ideas
Domain Overview
Top SEO Pages
Top SEO Keywords
Site Audit
Backlink Data
It is a great tool for beginners and has a simple-to-use interface
Guides, tooltips, and explanations to describe each aspect of the tool.
It provides the majority of functions that are required to run a complete SEO campaign.
Affordable monthly price and lifetime deal
SEO app is mobile-responsive
Ubersuggest is able to connect with the Google Webmaster Console account and incorporates that information into the app as well.
You can view data and results at the city or country level
Helpful and responsive support
It Has Data Caps
Many features are under development
Pricing:
If we are talking about its cost, you need the cost of 12 USD per month for individuals, $20 each month for businesses, and $40 per month for an enterprise.
Dmitry Gerasimenko established Ahrefs in the year 2011, however his work with document search engines started much earlier. It's possible that's the reason Ahrefs index is amazingly extensive. It updates its catalog of backlinks every fifteen minutes and processes up to the rate of eight billion pages every day.
To make use of it, click the platform you'd like to look up keywords (Google, Bing, YouTube or Amazon) Enter the keyword you want to search for, and then select the region you prefer.
Press the search keywords button and you'll get a list of over 100 keywords. The list will contain indicators such as the keyword's volume and difficulty and the most recent time they were last updated in Ahrefs the index.
Click the "question" tab to see a list of 50 questions that people are asking about the topic you've chosen.
If you'd like more than 100 keywords (or fifty questions) You'll have to pay a small amount for the one-day trial.
Features of Ahrefs
Ahrefs offers SEO experts as well as marketers, content creators, and agencies with these features.
1. Site Explorer
Ahrefs' Site Explorer is an application that allows you to know how your website performs on search engines.
DR: DR stands for domain rating. It's Ahrefs a metric used to measure the level of quality in a site's link profile.
Links: Ahrefs provides you with the backlink count that points to your site and the quality of those backlinks.
Domains that refer to your site: Ahrefs allows you to know the number of domains that are linking to your site.
Organic Keywords: Using the Ahrefs Site Explorer it is possible to see the number of keywords your website is listed for in Google and another search engines.
Organic traffic: Utilize this metric to determine how many people are visiting your site via search engines.
There are also performance graphs on competitors as well as organic, paid, traffic, as well as countries' traffic.
2. Site Audit Tool
3. Rank Tracker
Ahrefs"Rank Tracker" will assist you in monitoring the progress of your website's ranking in search engines.
It covers the following areas.
Keywords: The quantity of the keywords that you have decided to monitor.
Position of average: The place at which you're in the middle of every keyword you're following.
Positions: Ahrefs shows you how your website's rankings alter over time.
Visibility: An estimated number of visits your website receives on search engine result pages.
You'll also be able to see data on traffic, including impressions and clicks for every keyword you're monitoring.
4. Content Explorer
5. Keyword Explorer & SEO Dashboard
Ahrefs' Keyword Explorer is an instrument that finds prominent keywords that are used on the internet.
It covers the following areas.
The volume of search: The number of searches for a particular keyword in the Ahrefs Database.
CPC: Amount per impression of a specific keyword in the Google Ads platform.
Keyword difficulty: The Ahrefs metric measures the difficulty it takes to rank for a particular keyword in search engines.
You can also look up the SERP's features for every keyword you're looking into including highlighted snippets of text and keywords that are related to it.
Ahrefs allows you to search for keywords by country or language.
A wide range of SEO tools for improving your website.
Also offers a great selection of keyword tools that are specific to a specific topic.
This tool allows you to manage data and keywords.
The site audit will allow users to quickly identify SEO-related errors.
Fantastic web crawling capabilities.
It doesn't provide the most appealing user interface.
Might not offer the largest selection of SEO report options.
Pricing:
Lite
The Lite Plan with Ahrefs gives you the following benefits.
Site Explorer
Site Audit
SEO Dashboard
Keywords Explorer
Rank Tracker
Alerts
Cost: $99 for a month
Standard
Standard Plan: The Standard Plan gives you everything that you can get from the Lite Plan.
Additionally, you will get additional benefits when you use Site Explorer.
This includes the following additional options.
Broken links
Broken backlinks
Content gap
Link connects
Links that are incoming
Calendar view
Cost $199 per month
With the Standard edition, you also have a six-month historical view, a chart of position historical view as well as Content Explorer, batch analysis features, and report sharing with domain comparators.
Advanced
The Advanced Plan includes everything you need from Standard Plan.
Ahrefs is then able to add these features.
Google Data Studio
Dashboard folders
Two-year view of the past
Ahrefs search
Site Structure and HTML sources added in Site Explorer
Cost Monthly: $399
Enterprise
The Enterprise Plan includes all the features available in the Advanced Plan.
In addition, you will receive these additional features too.
Unlimited history
Directory Listing
Access management
API features
Invoice payment
Audit log
Cost: $999 for a month
If you are looking for Best Keyword Research Tools for Affiliate Marketing then Semrush is the best. Semrush is a company that was established in the year 2008 by Oleg Shchegolev and Dmitriy Melnikov.
The Semrush co-founders initially released a software tool known as SEOquake in the year 2006. The SEO tool was the catalyst for the development of the Semrush platform in the year 2008.
Semrush is used by more than 7 million users and is among the most well-known SEO tools available. This includes SEO professionals, digital marketer specialists, and copywriters for large corporations, mid-sized companies, and marketing agencies.
At present, Semrush offers tools for SEO (search engine marketing) as well as PPC (pay-per-click) advertising as well as competition research rank tracking, reports, and management of social media.
Features
Semrush features have been rated highly in the majority of reviews such as the following Semrush review. The top-rated Semrush features are listed below.
Keyword Analysis: This feature will aid you in identifying trending keywords you can use in your posts to drive users to your site.
Competitor Analysis: This is a standout among Semrush features. It gives users an insight into what competitors is doing to help you formulate their own concepts. The traffic analytics data can provide a valuable guide to this.
Local SEO: If you want to sell locally then the Semrush features you'll be able to belong to this category. They assist you in optimizing local markets to improve your sales.
Social Media Management: Two Semrush features that fall under this category will assist you to create posts on your social channels and analyze the reactions you receive from the social media platforms.
Market Analysis: The two Semrush options in this category will allow you to leap ahead of your competitors in either a current or a new market.
A plethora of tools
Well-established
Large brands rely on it.
Outstanding customer support
Various plans
It can be difficult especially when you do not have any prior SEO knowledge
Prices can be expensive for certain
It only provides results for 1 engine (Google)
Pricing:
Although SEMrush offers three pricing plans, it's noteworthy that the two first plans offer a trial period of 30 days for free. The three SEMrush pricing packages are Guru, Pro, and Business. The primary distinction between them is that small and individual teams can choose to use the Pro plan. Growing marketing teams can benefit from the Guru plan, and large agencies should use business plans.
Pro- $119.95 per month
Guru $229.95 per month
Business- $449.95 per month
Keyword Chef is a tool to find keywords that assists you in finding important keywords that are easier to rank over other search phrases. The tool will show you the results according to the inputs you provide. It analyses the SERPs through which you can get an impression of how important every keyword's relevance is.
Features:
Automatically clears out all junk words for you. It makes it easier and simpler to locate the words.
It instantly identifies and highlights the most relevant websites which saves you lots of time.
Real-time Bulk SERPs.
Only pay for the keywords you're using, without charges for monthly usage.
It saves your data automatically and can be shared with the public.
It offers the Smart wildcard-based search function that allows you to find clusters of interest
It's simple to make use of.
The proper instructions tools are put within the display, which makes it much easier to use and understand the program.
Keyword Chef automatically locates and sorts keywords
Real-time SERP analysis
Smart Wildcard Search to target groups and the best-of-the-best subjects
Filter your search results by keyword clusters. volume and SERP score
Export the selected Keyword to CSV
Price:
Keyword Chef is a unique pricing plan that uses credits instead of monthly charges. It is divided into 3 sections or categories:
Starter plan: $20 (0.017 cent per keyword) for 1,200 credits.
Plan Plus: $100 (0.01 cents per word) for 10,000 credits.
Pro plan: $250 (0.005 per keyword) for 50,000 credits.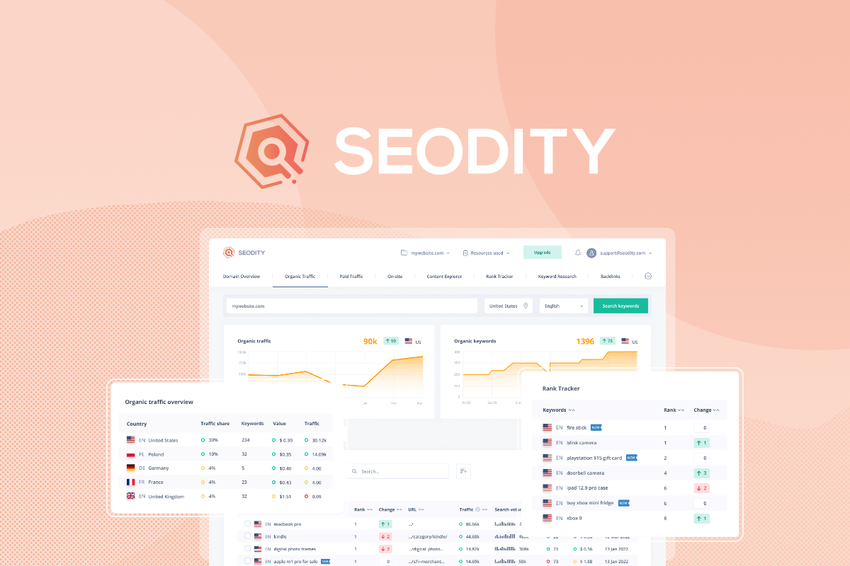 Seodity is a SaaS platform that can help you design and implement a profitable SEO strategy. It comes with tools that can be used to conduct keyword research and audits of websites, rank tracking as well as local optimization, backlinking, and much more.
With Seodity you'll gain access to comprehensive analysis and reports on the performance of your website providing you with a data-driven advantage over your competition. Seodity's aim is to assist individuals and companies thrive on the internet.
Features:
SEO Audit – You will be able to identify the issues your site is facing.
Seodity can advise you on how to correct any bugs discovered.
You can analyze SEO in depth with Data Explorer.
Analyzing content in a quick and easy manner.
Mobile Search Tracking.
Keyword research in real-time (organic and also paid).
Be aware of your site's Google SERPs Performance.
A great option for small-scale businesses looking to boost SEO.
The price is reasonable.
Much less than the competitors in this area, unfortunately.
Price:
Bronze Plan $89/month
The perfect strategy for starting
3000 web pages
350 keywords
Ten competitors
30000 backlinks
14 days of trail
No credit card is needed
Silver Plan $149/ month
Included are all Bronze Plan features+
Excellent for medium and small websites.
10000 pages
1200 keywords
20 competitors
80000 backlinks
Gold plan for $299/month
All Silver Plan features+
100000 web pages
4000 keywords
80 competitors
400000 backlinks
Agency plan $399/month
All Gold Plan features are included +
200000 pages
8000 keywords
100 competitors
800000 backlinks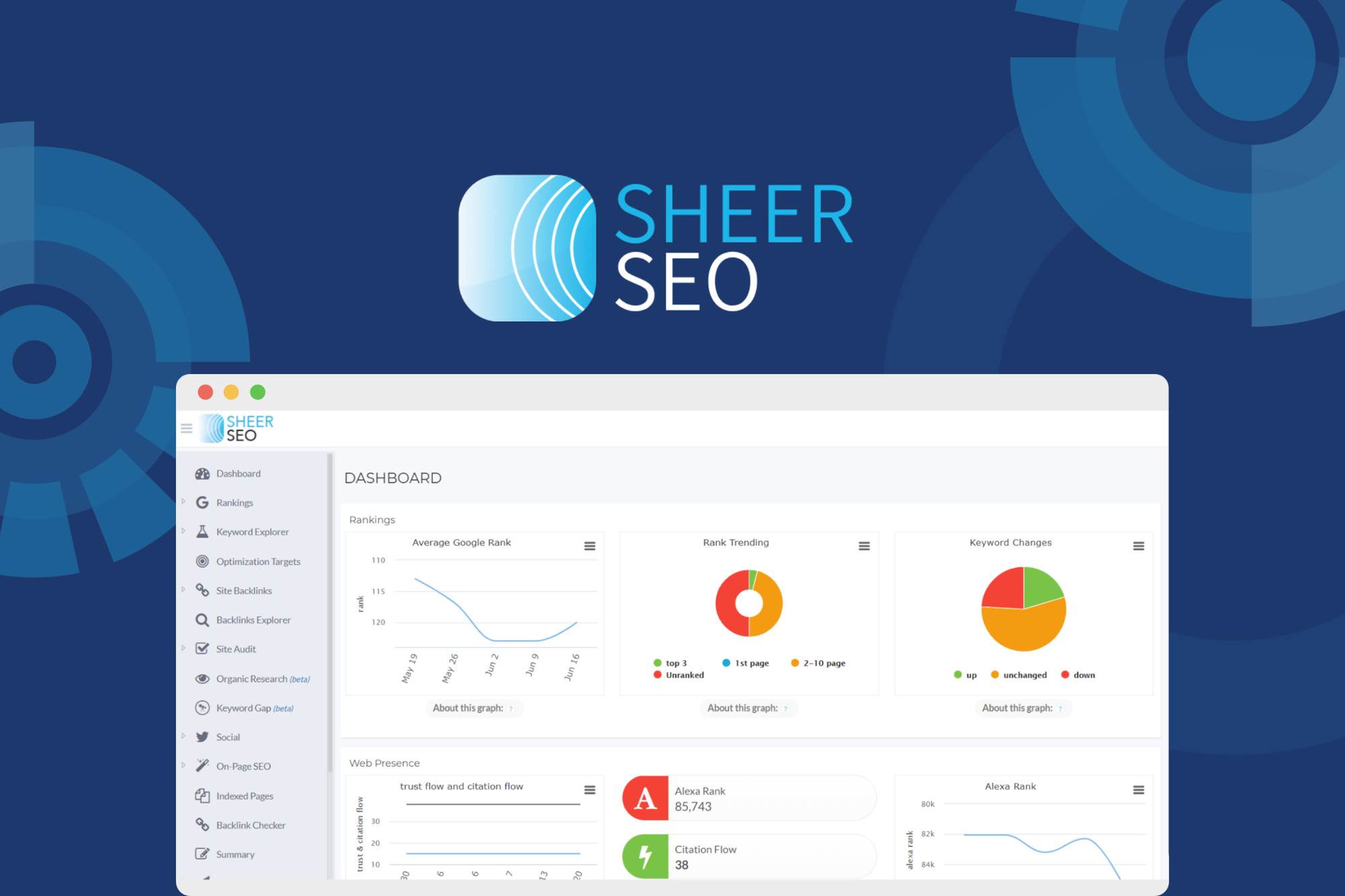 SheerSEO is an online SEO application specifically made for entrepreneurs, small businesses, and webmasters. It comes with a variety of features like exploring the use of keywords, tracking rankings for websites and analyzing backlinks, creating links, and more. These services can be extremely helpful to improve the performance of a site.
It's a powerful tool since it can scan any website and filter out SEO mistakes. It also offers suggestions for what actions you should take to correct the issue.
This tool is able to save the prior ranking based on the date. Thus, you will have the chance to check your current rank with previous dates. This allows you to determine the exact progress of your rank.
Features:
Rank Tracking
Competitor Analysis
Optimization Targets
Backlinks Explorer
Site Audit
Organic Research
Keyword Gap
Social Media
On-Page SEO
Index Page
Backlinks Checker
Directory Submission
Reports Generator
Cost-Effective
Comprehensive
Easy-to-Use
The interface is out of date
Lacks Graphical Detail
Price:
Free: SheerSEO begins with a free-for-ever version, which is likely to be restricted. It allows you to keep track of the 20 most popular keywords, and also crawl up to 100 pages per month, with monthly site audits once a month. The majority of other features are not allowed or severely limited.
Standard, $10/month: This package basically a lot more than what you will get in the free package. Additionally, you'll have access to the reports. You're still lacking most features.
Advanced $15/month: For only 5 dollars more than Standard Advanced, the Advanced package includes all features, excluding the Competitor Analysis tool. You'll also get many keyword tracking tools website audits, good crawl limits on pages as well as guarded backlink tools reviews of blogs, an outreach tool, the ability to instantly re-send rankings, and also integration to Google Search Console and Google Analytics.
Professional Thin, $25/month: The price of $25/month is still incredibly low in comparison to the other SEO packages. You'll have access to everything, with a budget that is generous and an analysis tool called Competitor.
Professional 40$/month for teams and agencies: The Advanced package includes everything you need, including an extremely generous limit on crawls and keyword budgets, and more.
Bonus Free SEO Tool
SEOChecker io: Website On-page SEO Checker Tool
SEO Checker.io helps you to monitor and optimize your SEO efforts over time. We can improve your website's real estate and increase traffic and conversions with an easy-to-digest audit report.
Here are some of the features of SEO Checker io:
API Access
Data Ownership
Data Export
SEO-Checker.io can help you improve your website's visibility and earn higher rankings by checking for duplicate content and potential risks to search engines.
Focus on what matters
Stop wasting time going through never-ending reports that are hard to understand and time-consuming. Get comprehensible reports, in just seconds.
Overview: Get an overview of your reports, with easy access to the reports that need the most attention.
Priority: We'll automatically sort the most important reports for you so that you can focus on what matters first.
Take action
Analyze the reports and take action on issues that matter. We make this easier by highlighting each issue with a special symbol and color.
SEO: Get an in-depth analysis of the most important tags and the content of your webpage.
Performance: Key performance metrics and suggestions will help you better understand and improve your webpage.
Export
Print: Black & white or color? Our reports are ready to be printed.
PDF: Not looking to print? Then save your reports as PDF.
CSV: Analytical? Export your account overview in CSV format.
---
Conclusion
In order to be an affiliate marketer, you must have a specific niche. In order to find a niche, you must begin an effort to think about it. After brainstorming, you will require exact data in order to make an informed decision. Today, marketers rely upon the use of tools to gather information and pertinent information.
Because it is considered to be a sales-based system, it is important to ensure that your products and services are more efficient and appropriate. In this article, we have discussed the tools that are necessary for affiliate marketers to create marketing. Therefore, you can utilize the Best Keyword Research Tools for Affiliate Marketing in 2022 which will improve your affiliate marketing.